Tainalta tämmöisen sain, kiitos :)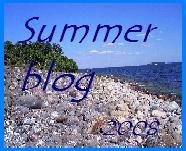 PALJON KIITOKSIA!!!

Here the rules:
Säännöt:
1. The winner can put the logo on his/her blog./ Voittaja voi laittaa logon blogiinsa.
2. Link the person you received your award from./ Linkitä siihen blogiin, josta palkinnon sait.
3. Nominate at least 5 other blogs./ Nimeä vähintään 5 muuta blogia palkinnon saajiksi.
4. Put links of those blogs on yours./ Laita noiden blogien linkit sivullesi.
5. Leave a message on the blogs of the boys/girls you've nominated./ Jätä viesti blogeihin, jotka nimesit voittajiksi.
Tämän eteenpäin pistäminen on vaikeaa - siis vaan siksi, että on niin paljon blogeja, joissa päivittäin käyn (Tainan on yksi niistä). Tätä pitää hetki miettiä (kun muuten menee kilometri kaikkia blogeja nimetessä).