Ja taas on uusi haasteblogi ilmoilla, tällä kertaa
 :)
Haaste # 1 - First PB stamp. Hankin kaksi leimasinta kerralla, kortissa olevan nallen ja tukin päällä olevan siilin.
Jokin aika sitten nuorempi poika tahtoi myös kokeilla akvarellikyniäni ja värittelikin niillä muutaman nallekuvan. Siksipä siis yhdessä tehtiin ATC-kortti tähän haasteeseen; poika kertoi mitä tehdä ja minä tein. Kortissa oleva nalle on siis pojan värittämä.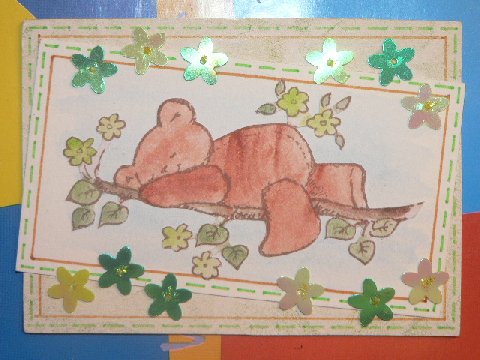 This cutie (dream a dream) is the other of two (from my first PB stamps). Hedgie on the log is the other (love conquers).
A while ago my younger son wanted to try my watercolours and here you can see how he's done.
This ATC we made together: he told what to do and I did :)
He's often been watching me making cards and now he had quite specific opinions and instructions what to do. I think we did ok, didn't we?