Ihan kaavan mukaan ei mennyt tämäkään
 # 3 -haaste: piti olla 3 haaraniittiä, 2 kuviopaperia ja 1 kukka.
Ekaksihan tein sen aiemmin esitellyn vihreän kortin tähän haasteeseen, mutta kun en niitä kukkia saanut nätisti pieneen korttipohjaan sopimaan.
Ja sitten hokasin, että tässä kyseisessä haasteessa toivotaan käytettävän Sugar Nellien tai Rachelle Anne Millerin leimasimia.
Hups, kurkkasin juuri aiempia kortteja ja huomasin, että ekassa oli ihan muu leimakuva ja edellisessä tämä sama... Kiva. No, kolmatta en enää tee >:(
Enivei, kun olin tämän kuvan jo värittänyt, hokasin, että eihän tähän (vieläkään) oikein ne kukat mätsää.
Siksipä siis vaadittavat niitit ja kukka on samanlaiset...
Mutta tällä mennään, enää en tosiaan tähän haasteeseen uutta tee, pitäis muitakin tehdä jo kiiruusti.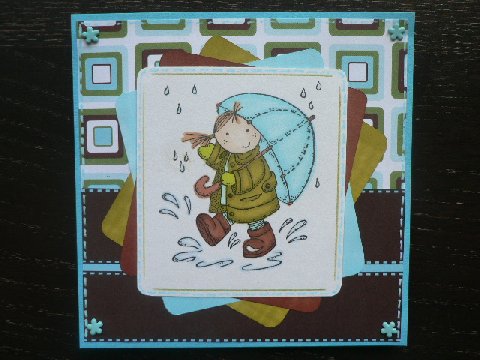 This has been so hard... First I made a card (with a wrong stamp again) in which I couldn't place a flower nicely. So I had to make this card.
After I had coloured the stamp I realized that flowers (still) don't do well with this stamp. So that's why 3 flower brads are for brads and one is for the flower. I hope it's ok.
And just a moment ago I realized that I had used the same stamp last week... Great.