Tämänviikkoisen
 -haasteena on käyttää värejä pinkki, sininen ja vihreä. Ruskeaa sai laittaa hiuksiin ja ihon tietysti värittää tarvittaessa.
Melko simppeli tuli taas tästäkin. Tuohon ympyrään mahtuu vielä hyvin pientä kirjoitusta sitten jos/kun kortin kohde ja aihe selviää.
Kukat ei mun mielestä sovi kuvan aiheeseen enkä mitään muutakaan juur keksinyt lisätä, en siis lisännyt mitään.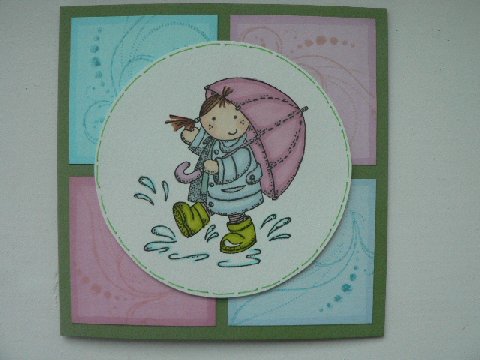 Very simple card again. Flowers were the only thing that came to mind (to add) but I don't think they're right with this stamp. So I didn't add anything.
There's some space in the circle to add some writing if/when I know who I give the card to and why.